PH-110
Author:Admin Click:591 Time:2018-01-03 11:07:00
PH-110 is a 2-way, 2element full range speaker. The enclosure is very small but with high output, up to 119dB SPL (125dB peak). At top view, the enclosure is not a normal four faced square or rectangular or trapezoidal, it is five faced enclosure. This design is suitable for a variety of placements. It may be placed up right or laid flat on the stage to use as a stage monitor. (See Figure 118)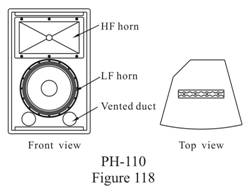 The enclosure
The enclosure is of phase inverted (or vented) design. The advantage of this design is that sound wave radiated from the rear of the speaker be in phase with the sound wave radiated from the speaker front by proper phase adjustment after passing through the vent. The vent itself functions as an additional radiator is this case, and its radiation can add constructively to that of the speaker over certain frequencies. It requires less speaker excursion and therefore reduced amplitude distortion for a given acoustic output in the lowest portion of its usable bandwidth. This effect is most noticeable for frequencies in the neighborhood of the system lower cutoff frequency.

For the same lower cutoff frequency, the enclosure can be made smaller and due to this reason, the air within the enclosure acting as an air cushion at very strong transient signals. (See Figure 116)


Figure 116
HF section is horn loaded
As compared to direct radiator type speaker, the advantage of horn loading is:

The sound wave radiated from the diaphragm (cone) to free space, the wave front changes (expanding) rapidly. The radiating resistance is low, and so does the efficiency.

As the cross section of a horn changes (expanding) gradually, so does the wave front of the sound wave radiated from the diaphragm (cone) that coupled to the horn. The radiating resistance is high, the amplitude of the vibrating diaphragm is reduced and so does the efficiency of transformation. (See Figure 117)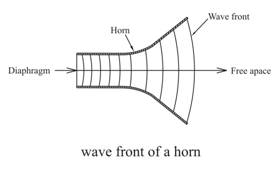 Figure 117
The exponential horn was chosen due to its minimal changing rate of cross section.

We expect the acoustic impedance of a horn be kept constant pure resistance for a widest possible frequency band. Exponential horn fulfilled this requirement. The materials of the horn is fiberglass reinforced plastic.

The enclosure is made of 18mm (11-ply) birch plywood. All joints are tenon and mortise of Chinese tradition plus screws and adhesive to ensure the rigidity and durability.

Many domestic and imported speaker enclosures using medium density fibre (MDF) board to reduce cost, but MDF has a fatal weakness. It soften when moisten and loss its rigidity. IBO rather uses expensive birch plywood to build the enclosures to ensure its strength and rigidity no matter used indoor or outdoor, rain or fine.

The enclosure is heavily braced internally and a black powder-coated steel mesh grille protects the drivers from damage. The finishing is in black semi-matt textured environmental friendly paint. A rear connector plate fitted with two Neutrik Speakon NL4MP connectors for amplifiers and for loop-in and loop-out to additional enclosures. (See Figure 119)


Figure 119
The Components
LF unit is a L10/50/10PSB 10-inch cone type driver
The frame is die-cast alloy
The case is made from specially formulated pulp with fiberglass and wool
The cone is light in weight and very rigid. The surround and spider are quite stiff and the bandwidth is wide
The magnet is made from y30 high flux strontium ferrite. The magnetic structure weights 410kgs
The diameter of the voice coil is 2-inch edge wound with flat aluminum wire on a Kapton former. (See Figure 120)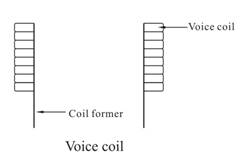 Figure 120
HF unit is a H1/34/05Z compression driver.
The diameter of the diaphragm is 1.25-inch and made is of ultra thin titanium plus the edge wound flat aluminum wire is also very light. The whole mess of the diaphragm/voice coil assembly is very small, efficiency is very high. The high frequency can be extended to 22KHZ
The diameter of the throat is only 1.0-inch, the cross section is much smaller than that of the area of the diaphragm. There is a high pressure zone built up between the diaphragm as the phase plug whose total cross sections of the slits are about equal to the cross section of the throat
Without the phase plug, the radiation from the center of the diaphragm or cone and the radiation from of the edge reach the throat at different time as the distances are different, and there are therefore phase difference
With the phase plug, the radiations from the center and from the edge are traveling at equal distance. When these radiations reach the throat, they are in phase.
The horn that coupled to the H1/34/05Z driver is made of fiberglass reinforced plastic.
(See Figure 121 and 122)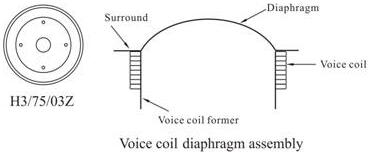 Figure 121Figure122
The material of the H1/7070, 70o (H) X 70 o (V) is made of die-cast ABS

The Crossover Network
The goal of PH Series speakers are to design a series of speakers of very good tonal quality for small to medium scale activities not necessarily with very high output SPL. Only small number of speaker needed for each activity. If external speaker processor is used instead of built-in passive crossover network, a greater number of power amplifiers would be needed. The operating cost would be high. Besides, the price of a high quality digital speaker processor is higher than a power amplifier. The advantage of cost effectiveness of small to medium size sound reinforcement system is lost. Therefore it is decided that a passive cross network would be built-in the PH-110. Crossover frequency is 3.5KHZ. High quality metal film capacitors and air core inductors are used where possible. All elements are carefully checked before assembling, those sub-standard or exceeding tolerance would be rejected and return to the suppliers.