AR-215B
Author:Admin Click:728 Time:2018-01-03 10:40:00
For simpler functions in small venue where only a couple of speakers are required the full range speaker used may be need to extend its frequency response to 50HZ or even lower to cope with the functional requirement. Not in the case of speakers as part of an array. An array usually consists of many speakers, each individual speaker or a group of speakers serve for specific purpose. There is no need for any speaker or part of the array to cover the entire frequency range. The full range speaker need not extend down to very low frequency as it would be covered by subwoofers. Besides, the full range speakers in line array physical and acoustic limitations. As part of a line array, the AR-215B is designed to handle to low end of the frequency response down to around 40HZ.

Enclosure
The enclosure of AR-215B is of front horn loaded and rear vented design. Two LF units are mounted on the bass horn that is farthest inside the cabinet. The front radiation is "squeezed" out of the horn. The rear radiation passes thru the phase inverted passages that would be in phase with the front radiation augmenting the low frequency response.

This design combined the advantages of horn loading and bass reflex enclosures. The enclosure need not made very large. (See Figure 107)


The enclosure is made of 18mm (11-ply) birch plywood. All joints are tenon and mortise of Chinese tradition plus screws and adhesive to ensure the rigidity and durability.

Many domestic and imported speaker enclosures using medium density fibre (MDF) board to reduce cost, but MDF has a fatal weakness. It soften when moisten and loss its rigidity. IBO rather uses expensive birch plywood to build the enclosures to ensure its strength and rigidity no matter used indoor or outdoor, rain or fine.

The enclosure is heavily braced internally and a black powder-coated steel mesh grille protects the drivers from damage. The finishing is in black semi-matt textured environmental friendly paint. A rear connector plate fitted with two Neutrik Speakon NL4MP connectors for amplifiers and for loop-in and loop-out to additional enclosures (See Figure 108).


Figure 108
The Component
Two L15/100/06Z drivers are used in LA-215B, L15/100/06Z is developed by iBO specifically for horn loading
Frame is die cast alloy
The cone is a special formula of pulp and glass fiber. The depth of the cone is rather shallower with reinforcement ribs for better reproduction of low-frequency
Surround and spider are stiffer to increase the mechanical stiffness
The cone is treated with inflammation resistant agent
The diameter of the voice coil is 2-inch edge wound with flat copper wire on a Kapton former.
The magnet is made from y30 high flux strontium ferrite weights 8.54kgs.
(See Figure 109 and 110)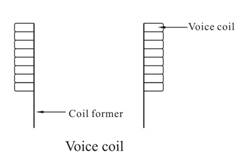 Figure 110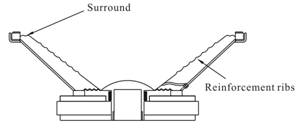 L15/100/06Z
Figure 110
The Crossover Network
Normally there is no built-in passive crossover network is a subwoofer or perhaps only a built-in low pass filter but even a low pass filter could cause phase problem and there is insertion loss. For these reasons, the AR-215B has no built-in passive crossover network nor low pass filter. It is recommended that all AR series speakers should be used in conjunction with external speaker processor with delay and equalization functions such as iBO D-26 (2in6out) digital speaker processor.

Applications and Technical Specifications
AR-215B subwoofer may be used in conjunction with any of the AR-112/64, AR-112/45, AR-115/64, AR-115/45 and AR-153 to make a 3-way or 4-way array. It may be rigged together with the main array or may be laid on the floor or locations as appropriate as the radiation from the subwoofer is omni directional, it would not affect the directional realism. Like the rest of AR Series speakers, it is mainly used in fixed installation sound reinforcement system such as large theaters, large discos and multi function halls etc.

Technical Specifications and diagrams (See below)